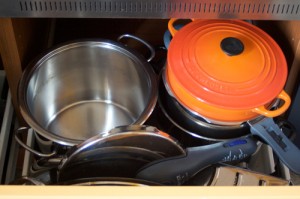 If you want to drive a car you need an engine.
If you want to hike a mountain, you need the right shoes and equipment.
If you want to bike, you need a working bicycle.
But if you want to to cook most people is convinced you don't need anything if not a few pan. That is not true! Especially if you are not a trained chef, you need much more, at least to speed things up.
Basic kitchen equipment
Pans
At least 2 pan for sauté and fry: low edges, flat bottom, non-stick (better ceramic or glass), with lids


1 Dutch oven or cast iron casserole,

with lid

1 big pot, with high edges, to cook pasta

, with lid

1 medium pot, for sauces and creams

, with lid

1 little pot to boil water

, with lid

1 cast iron griddle, heavy, to grill meat, fish and veggy
Some pans are not essentials but will come handy, such as:
a wok, perfect for quick stir fry, with lid
a pressure cooker
Small home appliance
1 stand mixer, with all the good attachments, like cutter, grater, whisk… It will save you so much time!
1 hand mixer, to blend anything anywhere
1 electronic scale that can weight at least 5 kilos
Knives
1 little knife, with a blade long 15 centimetres
1 big knife, with a blade long 25 centimetres
Divers
2 plastic chopping boards, 1 little, 1 big
3-4 mixing bowls of different measures, better in glass
1 funnel
1 measuring glass
1 rubber spatula
2 glass or ceramic oven dish
1 oven-tray
1 hand whisk
1 masher
1 colander
1 round baking tin with a high side
1 medium sieve
Quality
Do not buy cheap pans, appliances or knives!
Cooking with a good quality pan and cutting with a good knife will save you time and give you much more pleasure then cooking with a low qaulity pan where everything sticks and cutting yourselves along with the onion!
Believe me when I say that a very heavy griddle is much better than a light on: it will substitute the BBQ during winter, cooking everything perfectly!
For the home appliance, do not go for anything with less than 700kw of power, even the hand mixer: you'll see the difference!